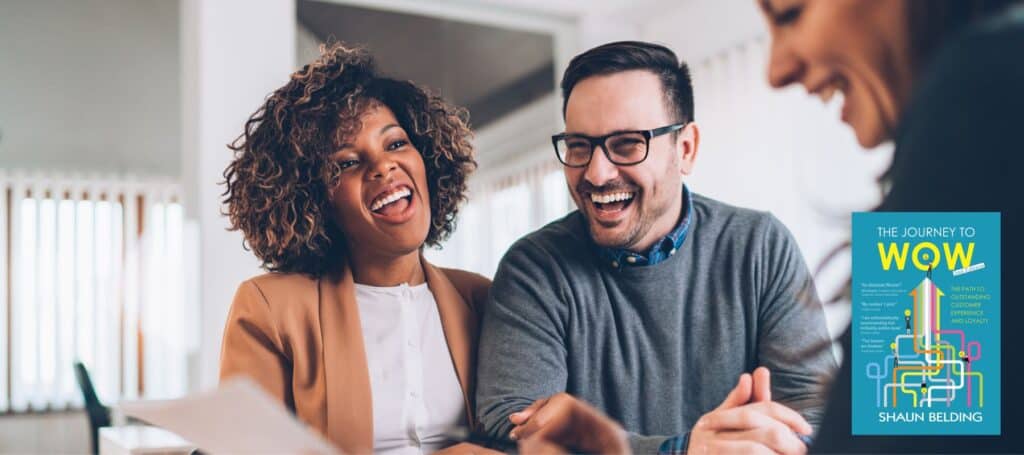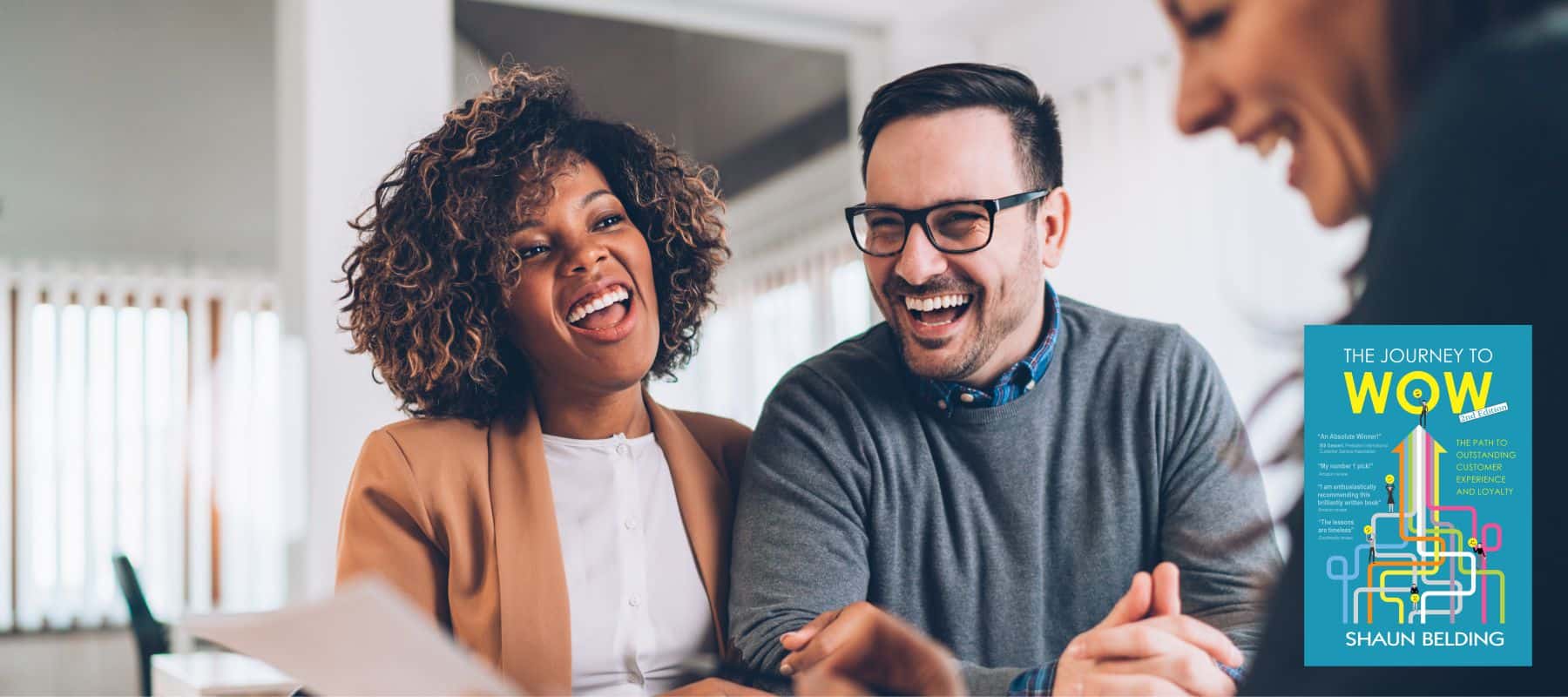 How to Create Customer Loyalty
"How do  you create customer loyalty?"  It's a question I'm frequently asked.  It's a great question, the answer to which is most often ignored when organizations are developing their business strategy.
Don't get me wrong. It's not because business are stupid. It's because the principles of building long-lasting customer loyalty are not easily or persuasively articulated in a business plan.
It's the main reason that I chose to write The Journey to WOW as a business parable. I wanted to answer the question of How do you create customer loyalty? in a format that we can relate to.  This is an excerpt from chapters 35 & 36. In it, Gary, a service recovery specialist in The Sagezza Centre, is explaining to the protagonist, Cameron Whitehall, what it takes to create loyalty from customers.
An example of how to create customer loyalty
excerpt from "The Journey to WOW"
If you haven't yet read The Journey to WOW yet, you can get it from Amazon here. (FYI – If you do make  purchase via this link, I receive a little compensation – so thanks in advance!)
Cameron and Madeleine followed Gary to the far side of the expansive reception area. They stood discreetly beside a glass wall looking into a small boardroom. On one side of the boardroom table sat two women. One was younger, with short, streaked blonde hair. The other was somewhat older and, judging from her appearance, was the younger woman's mother.
Standing at the other side of the table was a middle-age man with thinning brown hair, wearing a store name-badge. In front of him were several large plastic shopping bags. One had a competitor's name emblazoned on it.
"That is Tanya," Gary whispered. "Her wedding is two weeks from now. It's quite big – somewhere around two hundred and fifty people. Her wedding theme is 'fruit.'" On seeing the curious expressions on Cameron and Madeleine's faces, he clarified, "The bride and groom met when they were working together in a large orchard."
"The Bride-to-be did all of the planning herself, and had ordered a lot of the decorations and table-settings from an online company. Unfortunately, she just found out last week that the company will be unable to ship everything in time."
"Oh my goodness!" Madeleine exclaimed with her hand to her mouth, "That is so horrible!" Cameron nodded in agreement.
"It is," Gary agreed. "One of our employees down in the Household Decor department found out about it last week as Tanya and her mother were frantically looking for new table decorations. To their delight, they had found some beautiful, elegant fruit baskets," Gary pointed to one on the boardroom table, "but we only had twenty-one of the thirty-three they were going to need."
"Our employee called up here and spoke to Tyler." Gary indicated the man in the boardroom. "Ty dug around, did some research, and called Tanya and her mother this morning to invite them in to see what he came up with."
"Really?  You did that for us?"
Gary motioned them toward the boardroom door, that was slightly ajar, and they all listened intently.
"Unfortunately," they heard Tyler say, "we found out that there was no way our supplier could get us more of these fabulous baskets in time for the wedding." The faces of the two women fell.
"But," he said with a smile, reaching for the plastic bag emblazoned with the competitor's logo, "I knew how much you liked them, so I tracked down the dozen more we needed at another retailer. Rather than just send you there – you already have enough on your minds! – I took the liberty of purchasing them and bringing them in. They actually cost a little more at the other store, but we will sell them to you for the same price as the ones we had. I hope this was okay." And with that, Tyler reached into the bag, and pulled out the baskets.
Tanya's eyes grew wide, and her mother put a hand to her mouth. "Really?" she asked, "You did that for us?"
"Of course!" Tyler said with a smile. "This is your wedding after all. I can't think of many things that are more important to get right!"
"But," Tanya's mother said, haltingly, "If you bought them from the other store for more than you're going to charge us, it means you're losing money. I don't understand."
"True," Tyler acknowledged with a big smile, "But your daughter is much more than just a transaction to us. She is customer, a neighbor, a person – and one who is about to begin a whole new exciting journey. That's more important than just a business transaction, don't you think?
"Your daughter isn't a transaction. She is a customer, a neighbor, a person."

Both Tanya and her mother looked at each other, and then at Tyler in disbelief. Cameron was somewhat in disbelief as well.
He turned to Gary, and said, "Wow. That's amazing. But at the risk of appearing a bit mercenary, I'm not sure I understand how this makes any business sense. If you did this with every customer, you would be out of business in no time."
Gary nodded in agreement "Perhaps," he said "But it actually does make business sense – on a couple of levels." He nodded toward the boardroom again where Tyler had resumed talking.
"We also took the liberty of seeing if there was anything else we might be able to do to make your wedding special," Tyler said. "I know from our conversation that there were a lot of other things you had planned that also didn't arrive. If you are interested, I'd like to show you some of the ideas we had."
The two women nodded. Tyler reached into one of the other bags and pulled out a large, colorful, metal serving platter shaped like a giant strawberry, a package of flexible fridge-magnets, and a dozen permanent black markers. Each of the fridge magnets were shaped like a different fruit with a white space for writing a note.
"We thought that this might be a really fun registration thing," Tyler said excitedly. "When people show up for the reception, they each get a fridge magnet. They use one of these permanent markers to write their well-wishes to you on the magnet, and then stick it to the metal plate. Then, after the wedding, you have a great memento of the event!"
"That is such an awesome idea!" Tanya said with delight. Her mother agreed. "Thank you!" they said in unison.
"Not a bad payoff for a few hours of someone's work"
Tyler proceeded to present them with four more ideas, each received better than the last. When he was finished, Tanya's mother looked at him and said. "Wow! This is beyond anything we would ever have expected. You people are truly amazing!" A beaming Tanya pulled her phone out of her purse and snapped a picture of all the fruit-themed ideas spread across the table. She tapped the keys for a few moments, then put the phone back in her purse. "There," she said. "This had to go straight to Instagram!"
Cameron was nodding slowly as he watched the scene in the boardroom unfold. He turned to Gary and said. "Two women who will probably now shop in this store for life – plus a few of their friends; free advertising on social media; and an additional couple of hundred dollars in sales. Not a bad payoff for a few hours of someone's work and a small loss on a dozen baskets."
Gary nodded proudly. "And, we helped make someone's special day even more special," he said.
"Not bad at all." Cameron repeated softly, looking back through the glass into the boardroom. He lapsed into silence as he absorbed the lesson.
They walked slowly back to Gary's desk, and he told them of some of the other customers they had talked with that day. One was a man who had bought a reciprocating saw from their tools department, and arranged for delivery. When it arrived, he noticed it wasn't the same saw he had picked out. He called to complain, and was told that they had actually given him a better brand that had even more features. A part-time employee in the shipping department had found out that they were going to be on sale in just a few days, and had made the switch – so that the customer would get the better saw at an even better price. Needless to say, the customer was delighted.
Another was a long-time customer who was shopping for his wife's birthday, but his credit card was at its limit. The man had lost his job a few months back, Gary explained, and hadn't got back on his feet yet. When the cashier in the jewelry department couldn't complete the transaction, she notified one of Gary's colleagues who went straight down. The customer was told that there would be no charge for the $200 necklace. It was a gift from the store. The customer was also given an additional $100 gift card to help him through the tough times.
"He and his wife have been customers for over fifteen years," Gary explained before Cameron could ask. "They have spent a lot of money with us over that time. Given that they've always been there for us, it only seems right that we be there for them, doesn't it?"
Cameron wasn't convinced. "That's a pretty big precedent," he said doubtfully. "What if all of your customers suddenly started asking for the same treatment? Plus, there's no guarantees you'll ever see that money back."
Gary gave him an understanding look. "True. But that's the thing about loyalty, isn't it? It's given freely. You can't say 'I'll be loyal to you only if you are loyal to me.' That's not loyalty – that's a contract."
"Loyalty is about doing the right thing for the right reasons"
"Loyalty is about doing the right thing for the right reasons," he continued. "And we believe that if we are loyal to our customers, they will be loyal to us. We also believe that if a customer has been loyal to us, they deserve our loyalty. It's an integrity thing."
"I have also learned since working here," Gary said, addressing Cameron's concern that customers might take advantage of them, "that people are not nearly as opportunistic we fear. In fact, once you've created an emotional connection with customers, and they perceive you as an organization that genuinely cares about them, it's very rare that someone will take advantage of you."