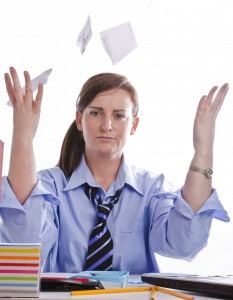 Remember when you had to do those high school group projects, and there was always that one person who never showed up for the meetings and never did the work he (she) was supposed to do? Sadly, there are many who have continued the same habits into their workplace, and they are even less fun to work with here. The unreliable coworkers seem oblivious to the frustration and chaos they create when don't get things done on time, take shortcuts, or just plain forget to do anything at all. What do you do?
Get it out in the open
It does no good to just sit and stew about it, or, worse, to whine to your other colleagues. You need to confront them with the facts, as well as the consequences created by their behaviour. You don't have to get nasty, but you do have to be direct. E.g.: "John, you know that I had to spend an extra two hours fixing your mistakes this week? Come on, don't do that to me!" They will always have excuses, of course, but don't let them off the hook too easy. Make sure they understand their behaviour is unacceptable.
Set expectations in advance
If you or a colleague have already been burned once by an unreliable coworker, make a point to set your expectations ahead of time, e.g.: "John, unless you get abducted by aliens, you better be making it to the meetings…"
Tell the teacher
If it is a recurring issue, you need to approach it just like you did in school – tell the boss. Again, you don't have to come across as a complaining employee, you just need to make sure he knows what's going on. Chances are he doesn't – or at least doesn't know how much of an impact it's having on the rest of the team.
It's a pretty safe bet that you won't be able to magically transform unreliable coworkers, but you can at least get them to to be wary of repeating their behaviour when you're around
Shaun
---
The Belding Group helps companies stand out by providing World-Class customer service training and customer experience consulting and measurement
Shaun Belding is a global expert on customer service ane workplace performance.  To enquire about Shaun's speaking availabilities, contact info@beldingtraining.com