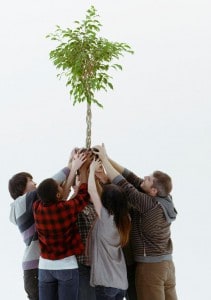 Maybe you're trying to overcome the February Blah's.  You might be trying to inject a little energy into your group, or overcome some communication issues.  Team-building initiatives can be a great way to get started.
If you do it right.
Unfortunately, however, if it isn't planned and executed well, you might end up having the complete opposite effect.
Here are four common mistakes that can ruin your team-building initiatives:
1.  You Don't Have A Clearly Defined Goal
All too often, companies embark on team-building initiatives with only a general idea of what they are trying to accomplish.  Are you hoping to improve communication, empathy, creativity, engagement, or just create a temporary release for a stressful environment?  It's hard to be successful if you haven't first defined what success looks like.  (Hint: Don't try to have more than one goal)
2.  The Dots Don't Connect To The Workplace
Closely related to #1, we often see teambuilding initiatives with little clear relationship to the workplace environment.  Taking your team to play Paintball, for example, might be a lot of fun for everyone.  But if your goal is to improve collaboration, will they really be able to translate this experience to the workplace?  Very often, a really engaging internal customer service program can have much better results than just playing a game.
3.  It's Awkward, Uncomfortable or Juvenile
I once witnessed a team-building day that began with everyone removing a shoe and throwing it into a pile in the middle of a room.  Then, everyone had to grab a shoe, find the owner, and talk with them.  For every person who enjoyed the exercise, there were four that felt like they were back in kindergarten.  The day went downhill from there.  Be careful with cute.
4.  It's Not Well Organized or Facilitated
Have all of the details been carefully planned so that everything goes smoothly?  Is the leader someone who can inspire, and someone who can improvise if things go sideways?
It was 20 years ago, but I vividly recall a two-day leadership retreat in an un-air-conditioned facility when the temperatures soared unexpectedly to 95F (35C).  Rather than alter the activities to compensate for the increasing discomfort of the participants, the facilitator insisted on sticking to the agenda.  As you can imagine, the end result was a disaster.
The reason I remember it?  Embarrassingly – I was the facilitator.  Needless to say, this was a lesson I didn't have to learn twice.
Good Luck!
Shaun
"Do you have a team, or just a group of people that happen to work together?"
—–
For Workplace Performance, Leadership and Customer Service Training, check out Belding Training