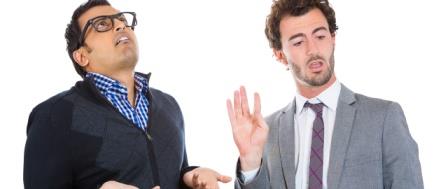 A reader from Nashville, Tennessee wrote in asking how to deal with the "Easily Irritated Customer."  She manages a retail store, and has one regular customer who always seems to find a new source of irritation each week. "She's never happy," she contends, "but she still keeps coming in, week after week.  Every week it's a new rant.  Last week it was about all the stores in the mall being too bright, and how the lighting hurt her eyes."
According to Janice, the customer spends a lot of money in the store – but she's really not a lot of fun to be around.  I suspect we've all met people who are easily irritated.  It's almost as if they're looking for a reason to get upset. The truth is, many of them are.  They aren't trying to be unlikable, though. It's simply part of their conversation pattern.
Whether we recognize it or not, each of us has a conversation pattern – conversation subjects that we tend to prefer when interacting with other people.  Some people like to talk politics, some about money.  Some people are story tellers who like to revisit the past, and some prefer to "gossip" – choosing topics about other people.  Some people, for whatever reason, prefer to talk about things that are wrong in the world.
The best strategy for dealing with the Easily Irritated Customer is by empathizing with the things he (she) says. You don't have to agree with him, all you have to do is nod with a knowing smile and say things like, "I see what you mean." It will shorten his rant because he's not getting an argument, and this in turn will shorten your pain.
Whatever you do, don't voice your disagreement. There is nothing to be gained by arguing – you won't change his mind or his conversation pattern, and it's probably not important that you do anyway.  The only result would be to provide him with fuel for his irritation.
This is one of those times when doing nothing is better than doing something.