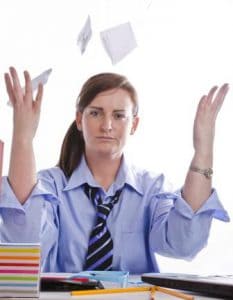 Stressed?  You're not alone.  It's been identified as the single most significant negative force in the workplace today.  Research out of the United States shows stress-related complaints representing close to 75% of all visits to doctors' offices, with estimates that stress costs American industry more than $300B a year.  In Canada, over 25% of people between the ages of 25 and 44 describe themselves as 'severely time stressed.'  A myriad of other studies around the world show that this is truly a global issue.  The unfortunate part is that a lot of this stress – maybe most of it – is self-inflicted.  There are far too many of us who lose far too much sleep over things that we really can't control.
Looking to reduce your stress?  Here's a great exercise:
1.  Make a list of those things which are currently bringing stress into your life.  Be specific.
2.  Separate the things on your list into two groups:  the controllables and the non-controllables.  The controllables are things you
can actually do something about.  The non-controllables are those things you can't fix, change or influence.
3.  Identify what action needs to be taken with the controllables and just do it.  No more talking.  No more fretting.  Just take some kind of action.  Whether your action succeeds or fails, you'll feel better for having done something.
4.  For each of the uncontrollables, answer each of the following 3 questions:
a.)  Is this something that is going to have a tangible and immediate effect on my life?
b.)  Have I taken action to negate or minimize the impact from this issue?
c.)  Have I taken whatever steps I can to ensure this issue won't recur?
If you've answered no to the first question, or yes to the last two, then you should be able to put your head on the pillow, pull up the sheets, and have a good night sleep.