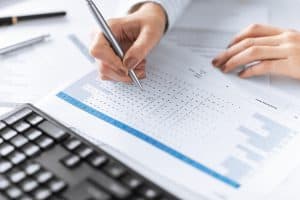 Is there an alternative to annual performance reviews?  You know, those things that everybody hates, and don't really accomplish much?  There is.  And the impact it can have on a company is dramatic.
Annual Reviews Don't Really Make Sense
Just for fun, go to your company's CEO, or CFO, and tell him (her) that you have a great cost-saving idea.  Suggest that the company could save a lot of person-hours by only doing financial reporting once a year, instead of that pesky monthly or weekly reporting you're doing now.  Most likely, he will look at you as the most naïve person in the world, then explain to you why that would be a very poor business practice.  Things can change a lot over the course of a year, he'll tell you.  And if you wait a whole year to find out where your business stands, it could be too late to fix things that are broken, or take advantage of opportunities that present themselves.  He will, of course, be absolutely right.
So why, the question is now begged, do most companies do employee performance reviews only once a year?  Is your company's human capital really that much less important to the success of its business than its other assets?  Of course not.  Why then, are companies so willing to keep their fingers on their financial pulse, but not on their human pulse.  The answer is two-fold.  First, it's because we've simply always done it that way.  Annual performance reviews have for some reason become generally acceptable business practices.  The second reason we don't conduct performance reviews more frequently is that most performance reviews are exceedingly arduous and time-consuming processes.  As with many things in business, they are often over-complicated and consequently under-used. There literally just aren't enough hours in a manager's day to do these things very often.
Take A Page From Your Accountant
The solution?  Change the way you do performance reviews.  Take a page from your accountant.  You see, most performance reviews in their current formats are the HR equivalent of a full financial audit.  They delve into all the nooks and crannies looking for errors and red flags.  And like an audit, they are highly time-consuming endeavors, which is why most companies conduct them less frequently.  So don't do an audit.  Prepare, as the accountant does, a monthly report that reviews and tracks key indicators.  Think of it as a human P&L and balance sheet.
Once a month, fill out a simple report for each employee.  Choose eight things – no more – to track.  Review the report with the employee, using it as a coaching tool, then tabulate all of your employees' 'scores' to get a general pulse of work performance.  There are three benefits to this practice:
1. You have a firmer grasp on the value of your human equity
2. Performance issues can be identified and addressed in a timely manner
3. When your year-end performance review comes around, you've already done a lot of the work
Keeping a monthly finger on the pulse of your employees' performance is a great practice.  And when you combine this with the more informal daily or weekly coaching regimen, and the full-scale annual performance review, you will find your ability to develop and motivate your team magnifies dramatically.
Good luck!
———
Shaun Belding is CEO of The Belding Group of Companies, a global leader in leadership and customer service training and consulting