About The Belding Group of Companies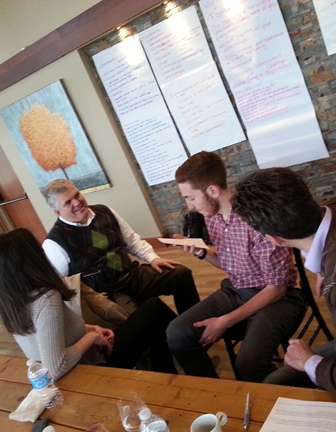 The Belding Group of Companies is a global leader in the design and delivery of customer service training programs, and consulting in customer experience. We also provide internationally-acclaimed leadership training, and ground-breaking training on dealing with difficult situations and customer service recovery.
The Belding Group works globally and has won national and international awards for our customized customer service training programs. We have helped organizations in a broad range of industries improve their overall operating performance through enhanced customer experience.

Industries We Serve
Over the years we have worked with organizations in a wide cross-section of industries. We have customized customer service and leadership programs for corporate, retail, government, service, manufacturing, entertainment and technology sectors.

A Little History
1991 - 1997
The Belding Group of Companies began in 1991 as The Consortium, a Canadian training and consulting company focused exclusively on retail sales and customer service. Shaun Belding was the managing partner. The entertaining, fun, yet powerful customer service training formula propelled the company to immediate success. Shortly after, the mystery shopping division, STOREcheck (one of the first of its kind in Canada) was born.
1997 - 2005
In 1997, Belding Skills Development Corporation was formed, with a broader training focus. The sectors expanded beyond retail to include all business sectors, and the skills being trained broadened to include workplace skills, leadership and a wide selection of management skills. The mystery shopping division was re-named and established as a separate company - RetailTrack Mystery Shopping & Consulting. RetailTrack continued to build a strong reputation for the responsiveness of service and an extraordinarily high quality in project management and results.
In 2004, Shaun Belding began a free weekly newsletter with tips and suggestions on worrkplace success, and dealing with difficult customers, coworkers, employees and bosses. It's original name, Hints from Hell was changed in 2008 to Winning At Work. The newsletter is extremely popular, with subscribers from over 70 countries.
2005 - 2016
The international success of Shaun Belding's best-selling Winning with the...from Hell book series increased the global demand for Shaun's expertise and the superior services offered by each company. So in 2005, Belding Training and RetailTrack were re-merged as divisions of The Belding Group of Companies Inc. It was decided that the sole focus of the company would be on customer service, customer experience and all of the skills and leadership qualities that support a customer-focused organization.
2016 to present
In the Spring of 2016, The Belding Group concluded a three-year research project,The Science Of WOW. It was the first study to clearly define "Wow" experiences, and to identify the specific things organizations have to do to create them.
In December 2016, the RetailTrack Mystery Shopping division was acquired by Intouch Insight, allowing The Belding Group to focus on the increasingly important field of customer experience and customer service improvement.

Over the years, The Belding Group has won international awards, and has established itself as global leader in customer service training and customer experience consulting. Shaun Belding, CEO, is recognized as a leading expert in the field, and is a highly sought-after advisor and keynote speaker.